Citi Bike app
You can check out the Bike Angels points from each station on each trip from the Ride History section within your Citi Bike app. For the easiest access to your point totals, turn on app push notifications in your phone's settings.
Website
To check the amount of points you've earned on each Bike Angel trip, check out the Trips section of your member profile. From there, you'll see the point total for each rental you've taken along with the station scores that earned you points!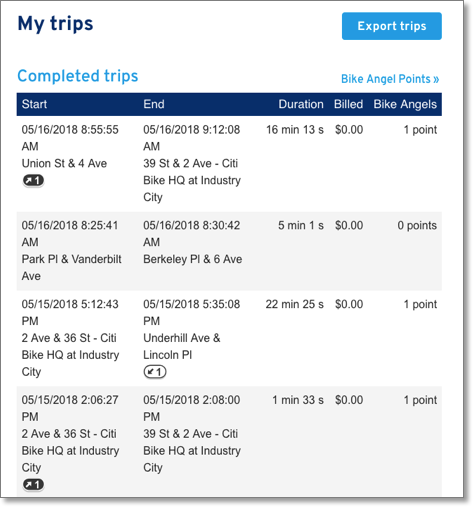 In addition, there are three different ways to check your Bike Angels point totals.
Push notification
As soon as you dock, you'll be sent a push notification on your phone with the total points for that trip along with your monthly and annual total. Make sure to activate push notifications for the Citi Bike app in your phone's settings!
Docking email
If you have your docking notification emails turned on within your member profile, you'll receive a "trip receipt" in your inbox with details of the trip (including Bike Angel points) each time you dock.
Member profile
You can also head to the statistics section of your member profile on Citi Bike's website (on a mobile or desktop browser) to check your monthly and annual point total, along with the points you earned on each of your trips.
We're working on getting this information displayed directly in the app as well. Stay tuned!